WHO WE ARE
About Us
How I Started Handspinning
DROP SPINDLES
*Types of Drop Spindles
How To Make A Drop Spindle
Making Yarn With A Drop Spindle

SPINNING WHEELS
Styles of Spinning Wheels
Parts Of The Spinning Wheel
*How The Spinning Wheel Works
* Adjusting The Wheel's Tension
*Drive Ratios & Twist

HANDSPINNING TECHNIQUES
Preparing To Spin


Basic Handspinning Techniques


Adding On More Fiber


Spinning Woollen and Worsted Yarn
*Making A Skein With A Niddy Noddy
* "Setting In The Twist" Of Handspun Yarn
*Navajo Plying

FIBER INFORMATION
Alpaca


Angora


Llama


Mohair


Silk
Wool

WOOL PREPARATION
How to Wash Your Fleece
How to Use Hand Carders


How to Use a Drum Carder
How to Use Dutch Combs
How to Use Mini-Combs
Using a Diz

DYEING INFORMATION
Natural Dyes
Natural Plant Dyeing
Mordants
Natural Dyeing: Helpful Tips
Dyeing with Gaywool Dyes

BUY EQUIPMENT & SUPPLIES
ONLINE PRODUCT CATALOG
Return Policy
Payment Options
Mail-in Order Form
WOOLY WABBIT(TM) FARM
Meet the "Wooly Wabbits"


Angora Rabbit Breeds
How to Care For Your Angora Rabbit

FEEDBACK
REQUEST INFORMATION

Making A Skein With A Niddy Noddy

Skeining is required for both singles and plied yarns in order to set in the twist and if you plan to dye the yarn.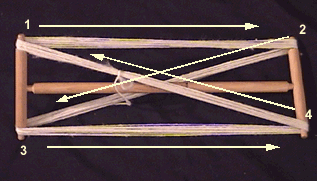 How to Use a Niddy Noddy
Take the end of the yarn in one hand while holding the center bar of the niddy noddy. If you are skeining from a spinning wheel, remove the yarn from the orifice of the wheel, and loosen the tension applied to the spindle, first, to prevent the yarn from rolling back on itself. Guide the yarn over the top bar (1) then down to and under the bar at the bottom (2), take the yarn back up and over the top bar on the other side (3) then down and under the bottom bar (4), while keeping a firm grip and slightly twisting your wrist. Continue to bring the yarn back up to the top bar where you started. Follow that same identical path on the niddy noddy until you run out of yarn on the bobbin.
Removing the Skein
Tie the beginning and the end of the yarn securely together, and tie the skein in three other sections. Pull the skein off of the bars of the niddy noddy, insert your thumbs in the center of the skein, and snap it open. With the skein on your thumbs twist it at one or both ends to build up enough twist so that it will twist back on itself. Loop one end over the other to close the skein.
If you do not have a niddy noddy, you can also skein your yarn on the back of a chair or around your arm and elbow.