Fiber Types

Llama
Llamas are related to the Alpacas, but are larger and taller. To a handspinner's delight Llama fiber, like Alpaca, comes in a variety of natural colors such as, white, fawn, cinnamon, silver gray, and black.
Llama - Video (Size-183KB)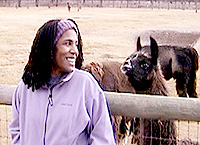 Tulasi with her Llama friends

Characteristics:
Natural, Animal Fiber
Lightweight, Soft
Less elasticity than wool
Luxurious
Very durable
Hand-washable or dry-cleanable
Little static, no pilling
Dyes well
Blends extremely well with other fibers
End Uses:
Llamas have both outer guard hairs and an undercoat of fiber. The guard hairs are longer, thicker, straight, and wiry. They should be pulled out or combed out of a shorn fleece because it resists spinning, dyeing, and felting.
Good for: pillows, rugs, ropes, and wall hangings.
The down fibers of the Llama are shorter, softer, and wavy with some crimp, and will produce a soft yarn.
Good for: hats, scarves, shawls, sweater, socks, etc.