Fiber Types

Alpaca

Alpaca - Video 1 (Size-372KB)
Alpaca - Video 2 (Size-218KB)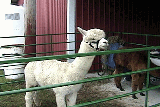 Alpaca

Characteristics:
Natural, Animal Fiber
Lightweight, Soft
Luxurious
Very durable
Hand-washable or dry-cleanable
Little static, no pilling
Dyes well
Blends extremely well with other fibers
End Uses:
Alpaca is a very versatile fiber often used to make apparel such as, dresses, blouses, skirts, jackets, pants, pants, scarves, ties. Miscellaneous items include: curtains, draperies, upholstery.
---
TYPES OF ALPACA
Suri - wool has long straight fibers with no crimp. The fibers are silky, very fine and very soft. There is a wide variety in the color of the fiber such as, white, fawn, golden, reddish brown, grays, dark brown, and black. Suri Alpaca fiber is ideal for making soft loftier yarns for knitting. It can also be used for felting.