WHO WE ARE
About Us
How I Started Handspinning
DROP SPINDLES
*Types of Drop Spindles
How To Make A Drop Spindle
Making Yarn With A Drop Spindle

SPINNING WHEELS
Styles of Spinning Wheels
Parts Of The Spinning Wheel
*How The Spinning Wheel Works
* Adjusting The Wheel's Tension
*Drive Ratios & Twist

HANDSPINNING TECHNIQUES
Preparing To Spin


Basic Handspinning Techniques


Adding On More Fiber


Spinning Woollen and Worsted Yarn
*Making A Skein With A Niddy Noddy
* "Setting In The Twist" Of Handspun Yarn
*Navajo Plying

FIBER INFORMATION
Alpaca


Angora


Llama


Mohair


Silk
Wool

WOOL PREPARATION
How to Wash Your Fleece
How to Use Hand Carders


How to Use a Drum Carder
How to Use Dutch Combs
How to Use Mini-Combs
Using a Diz

DYEING INFORMATION
Natural Dyes
Natural Plant Dyeing
Mordants
Natural Dyeing: Helpful Tips
Dyeing with Gaywool Dyes

BUY EQUIPMENT & SUPPLIES
ONLINE PRODUCT CATALOG
Return Policy
Payment Options
Mail-in Order Form
WOOLY WABBIT(TM) FARM
Meet the "Wooly Wabbits"


Angora Rabbit Breeds
How to Care For Your Angora Rabbit

FEEDBACK
REQUEST INFORMATION

Fiber Types

WOOL

Suffolk Sheep - Video (Size-223KB)
Merino Sheep - Video (Size-342KB)
Romney Sheep - Video (Size-323KB)
Shetland Sheep - Video (Size-371KB)
Sheep Shearing - Video (Size-479KB)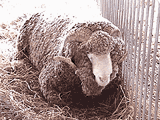 Merino Sheep

Characteristics:
Natural, Animal Fiber
Comfortable
Versatile
Lightweight
Good insulator
Washable
Wrinkle-resistant
Absorbent
Easy to dye
End Uses:
Wool is a very versatile fiber often used to make apparel such as, sweaters, dresses, coats, suits, jackets, pants, skirts, scarves, gloves and mittens, socks, and hats. It can also be used to make household item such as, carpets, draperies, upholstery, and blankets. Miscellaneous items include: handbags and jewelry.
---
TYPES OF WOOL
Superfine Merino wool is of excellent color, soft handling and dense, with a fiber diameter of 18 microns. Staple length is about 70mm
Medium Merino wool is a heavy fleece which is soft handling and of good color with a fiber diameter of 20-22 microns. Staple length is approximately 90mm.
Corriedale is produced by crossing Lincoln rams to Merino ewes. A heavy-cutting fleece of thick staple, very bulky, high yielding wool of a fiber diameter range of 25-32 microns. Staple length approximately 150mm.
Border Leicester is soft handling, lustrous, with a staple formation which is round in form, broad at the base and tapering to a pointed tip.Well defined tip throughout. Length 200mm and over. 32-38 microns.
Lincoln has very thick staples, rather rough appearance outside. Golden bright color with well-defined crimp throughout, showing good lustre. Length of staple 200mm and over. 38 microns.
Romney wool is of variable quality, britch end often coarse. Texture: hard. Staple length often lacking in sharp crimp formation. Length is 150-200mm. Fineness 33 microns.