WHO WE ARE
About Us
How I Started Handspinning
DROP SPINDLES
*Types of Drop Spindles
How To Make A Drop Spindle
Making Yarn With A Drop Spindle

SPINNING WHEELS
Styles of Spinning Wheels
Parts Of The Spinning Wheel
*How The Spinning Wheel Works
* Adjusting The Wheel's Tension
*Drive Ratios & Twist

HANDSPINNING TECHNIQUES
Preparing To Spin


Basic Handspinning Techniques


Adding On More Fiber


Spinning Woollen and Worsted Yarn
*Making A Skein With A Niddy Noddy
* "Setting In The Twist" Of Handspun Yarn
*Navajo Plying

FIBER INFORMATION
Alpaca


Angora


Llama


Mohair


Silk
Wool

WOOL PREPARATION
How to Wash Your Fleece
How to Use Hand Carders


How to Use a Drum Carder
How to Use Dutch Combs
How to Use Mini-Combs
Using a Diz

DYEING INFORMATION
Natural Dyes
Natural Plant Dyeing
Mordants
Natural Dyeing: Helpful Tips
Dyeing with Gaywool Dyes

BUY EQUIPMENT & SUPPLIES
ONLINE PRODUCT CATALOG
Return Policy
Payment Options
Mail-in Order Form
WOOLY WABBIT(TM) FARM
Meet the "Wooly Wabbits"


Angora Rabbit Breeds
How to Care For Your Angora Rabbit

FEEDBACK
REQUEST INFORMATION

Fiber Types

Mohair

Angora Goat - Video (Size-328KB)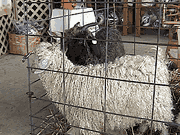 Angora Goat

Characteristics:
Natural, Animal Fiber
Lustre
Non-flammable
Very durable
Washable
Wrinkle and stretch-resistant
Soil-resistant
Absorbent
Easy to dye
End Uses:
Mohair is the wool from the angora goat. It is a silky, lusterous, versatile and durable fiber often used to make apparel such as, coats, suits, dresses, sweaters, accessories, loungewear, and socks. Miscellaneous items include: hair for dolls, beards for Santa Claus figures, blankets, upholstery, draperies, carpets and rugs.
---
TYPES OF MOHAIR
Kid Mohair fleece is the first shearing from a young angora goat. It is very fine and soft handling. Fineness ranges from 23-27 microns with a staple length of 100 to 150mm.
Goatling is the second shearing from a goat and is also fine and soft. Fineness ranges from 27-30 microns with a staple length of 100-150mm.
Adult Mohair is the fleece from the mature goat. It is fine to coarse with a fineness of 30 microns onwards and the staple length is also 100-150mm.
---

SPINNING MOHAIR
Spinning mohair is similar to spinning angora or merino wool. One can spin a soft, lofty yarn with plenty of elasticity with these following tips:
card only when blending colors
use a light tension on the wheel
put more twist into the singles to keep the yarn strong when it is plied