How To Use Mini-Combs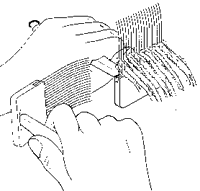 Filling the comb
Lash locks of wool onto the tines of one comb. Flip the locks so that the butt ends catch the tines. Fill the whole width of the comb with two rows of locks.
Combing
Comb gently, by entering the tips of the locks with the tines of the empty comb. Swing the moving comb from the left to the right, so that the wool flips back over the head of the comb, where it won't tangle on subsequent strokes.
No preliminary teasing is required, unless the wool is badly matted.
Notice that all the wool is being transferred to the moving comb. Most of it will fluff out, but some will still be clumped together at this stage. When you have finished the first pass, the stationary comb only holds cuts and trash, which should be removed.
Second pass
Now switch the combs. The filled comb becomes the stationary and the empty comb becomes the moving one in your right hand.
Before proceeding, use the tips of the empty comb's tines to pull the wool away from the head of the loaded comb. When the wool is partway up the tines, you won't jam against the head and combing goes easier.
As before, the shorter fibers will remain on the stationary comb, while the longer fibers transfer to the moving comb.
Make some more combing passes till the wool is smooth and aligned to make a sliver.
Making a sliver
Gently stroke the wool to a point. Pinch the end and pull the wool from the comb. You also can spin straight off the comb by drawing the fibers from the loaded comb. - Louet